Advantages
New Approaches to Contraceptives Without Side Effects, an Increasingly Needed Contraceptive
Demonstration in fish completed and in mice also nearing completed and release
Substance obtained by HSP with inventor's original synthetic mPR protein
Current Stage & Goals
Conventional contraceptives are progesterone-like compounds, a group of substances with a steroidal skeleton. Thus, they do not escape the side effects of steroidal compounds, which generally cause nausea, vomiting, dizziness, fatigue, headache, breast tenderness, and lower abdominal pain, but no drug has been brought to avoid them.
The inventor has long studied the effects of steroid hormones on living organisms. The present inventor has focused his research on the plasma membrane progesterone receptor (mPR), which transmits non-genomic action to cells. In the process, they have recently succeeded in artificial synthesis of mPR protein, which enables to screen substances acting on the mPR receptor in a high-throughput manner. On the other hand, the inventor has promoted research on extracts purified from seawater collected in marine waters where seaweed Padina inhabit for the purpose of investigating the effects of environmental hormones on fish, and has worked to purify the compounds from the seaweed Pandia. Through an approach that linked these research themes, it was revealed that a compound purified from the Pandia acts as an antagonist to the mPR receptor. Nuclear magnetic resonance (NMR) analysis of this extract demonstrated that it contained 2-hydroxypentanoic acid (2-HPA) and that it inhibits oocyte maturation and ovulation in fish.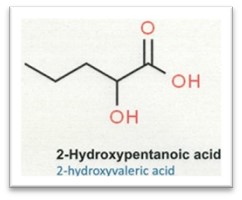 Data
Inhibition of oocyte maturation and ovulation by 2-HPA and its analogs in zebrafish
Compared to 2-HPA, 2-Hydroxybutyric acid, valeric acid, 2-Hydroxyhexanoic acid, 1,2-Pentanediol, and 3-Hydroxyvaleric acid hydroxyvaleric acid, and 1,2-pentanediol were used. Only 2-HPA can inhibit oocyte maturation and ovulation in zebrafish.
Patent
Pending (unpublished)
Publication
[1] Tokumoto T,et al.,Research Square  https://doi.org/10.21203/rs.3.rs-3360164/v1
[2] Tokumoto T,et al.,Biochemical and Biophysical Research Communications 592 (2022)1-6
Applicant
National University Corporation Shizuoka University
Researcher
Department of Bioscience, Graduate School of Integrated Science and Technology, Shizuoka University
Professor Toshinobu Tokumoto
Development Phase
Current stage:
Proof of concept of 2-HPA inhibiting ovulation and oocyte maturation has been completed (mouse proof of concept will be released by the end of the year).
Next stage:
1)Detailed mechanism research, other proof of concept, formulation optimization development
2)Clinical development
We are looking for a development partner company that can help us advance the above development. We would be happy to start with a detailed explanation and discussion of the technology.
Project No.ON-04588