Advantages
Inhibition against major metallo-beta-lactamases including NDM-1, IMP-1 and VIM-2
New compounds found by screening and structurally optimized by β-lactamase binding analysis
Low cytotoxicity and acute toxicity in mice, and efficacious in mouse infection experiments
Background and Technology
In recent years, reports of infectious disease-causing various microbes acquiring resistance to β-lactams have been increasing, and the difficulty in treating infections with these organisms has become a serious issue. The major resistance mechanism in many microbes is the production of β-lactamases that degrade and inactivate β-lactams. Metallo-β-lactamases (MBLs) are metalloenzymes that contain zinc at their active center, and inactivation mechanism by MBLs is totally different from that of serine β-lactamases having a serine residue at their active center.
MBLs exhibit broad substrate specificity, and MBL-producing bacteria have become a serious clinical threat due to acquiring broad resistance to many β-lactams. For example, they even inactivate carbapenems which are stable against serine β-lactamases. In addition, MBL production have been identified in many bacterial species, and multidrug resistance due to MBL production in Enterobacterales and Pseudomonad has become particular clinical concern worldwide. Currently, β-lactamase inhibitors used in clinical practice include clavulanate, sulbactam, tazobactam, and avibactam which are effective in inactivating serine-β-lactamase, but no inhibitors efficacious against MBLs has yet been put to practical use.
We screened a university-owned chemical library of more than 20,000 compounds for selecting inhibitors against MBLs (NDM-1, IMP-1, and VIM-2), followed by further binding structure analyses, and then designed and synthesized novel inhibitors characterized by the presence of both sulfamoyl and carboxylic groups.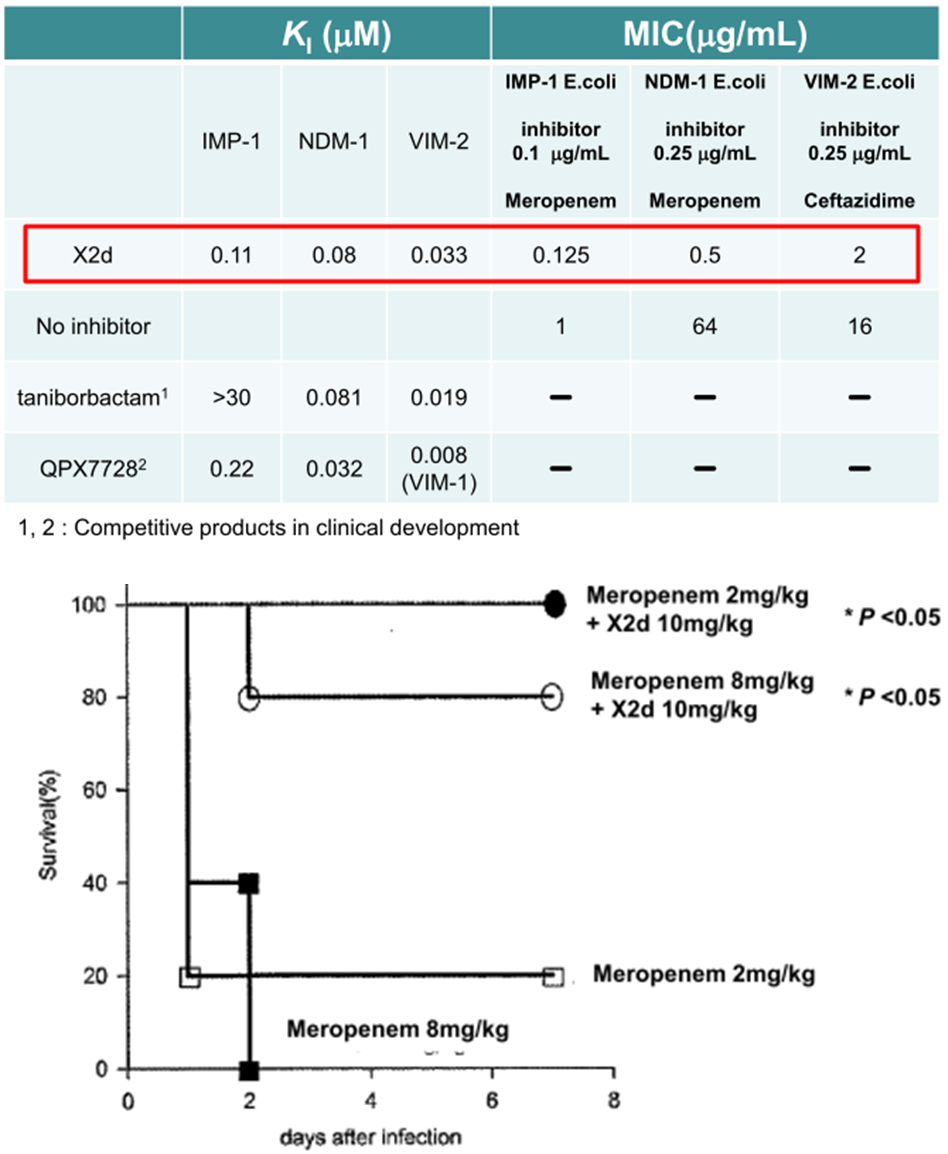 Reference and Patent
Published patent application: WO2019/221122
Principal Investigator
Yoshichika ARAKAWA (Nagoya University Graduate School of Medicine)
Current Stage and Next Step
One of the inhibitors (X2d) markedly improved the susceptibility to meropenem (a carbapenem antibiotic) and ceftazidime in MBL (IMP-1, NDM-1 and VIM-2)-producing coli (top view). Peritoneal administration of the inhibitor (X2d) to mice (n=5) improved their survival when infected with a clinical isolate of K. pneumoniae which co-produce both NDM-1 and VIM-2 (lower panel).
No adverse events have been confirmed in cytotoxicity studies on cultured human cells and acute toxicity studies on mice.
We are looking for partners to collaborate with us for clinical development.
Project No. BK-04667