Advantages
Materials with high-strength double network gel (DN gel) developed in this laboratory
Proven implantation in bone defects of rabbit femoral condyle
Available to provide samples, advice on manufacturing and molding techniques
Background & Technology
Injured and worn cartilage and its joint pain do not heal spontaneously in vivo and require treatment. Solid materials such as ultra-high-density polyethylene ceramics have been used as artificial joint materials, and due to the difference in water content with biological cartilage, the friction is dozens of times greater than that of biological joints. Furthermore, it was difficult to retain lubricant due to its low deformability and shock absorption. To solve these problems, the laboratory developed an original "high-strength hydrogel" (DN gel) and proposed to use it as an artificial joint with the same level of toughness and water content as biological cartilage and a surface with low sliding friction resistance comparable to that of biological cartilage. Research has been conducted to demonstrate the feasibility of this new joint prosthesis.
On the other hand, when this high-strength hydrogel is implanted into a cartilage defect for clinical application, the gel needs to be fixed to bone tissue as a matrix.
To address this issue, the laboratory found a method to hybridize HAp nanocrystals to the surface layer of DN gel to take advantage of the semipermeability of hydrogel, the high osteoconductivity of hydroxyapatite (HAp), and the dynamic nature of bone tissue, and spontaneously formed a hybrid layer of gel and bone at the gel-bone interface in vivo. The method of spontaneously forming a hybrid layer of gel and bone at the gel-bone interface in vivo has been successfully established.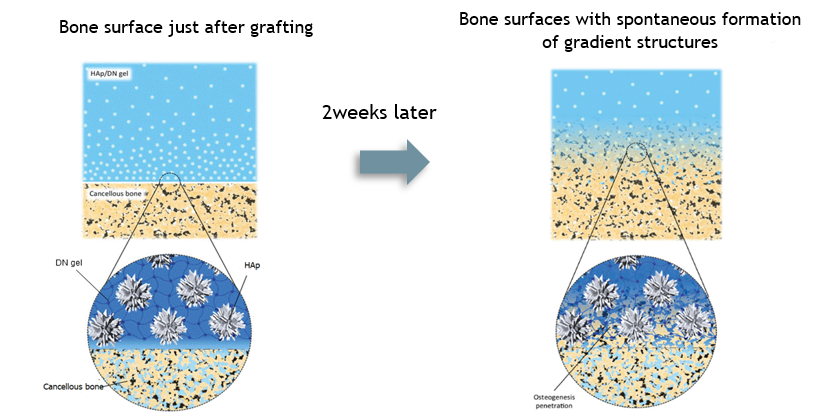 Data
A : Schematic of HAp/DN gel plug implanted in rabbit femur
B : i,ii) μCT of DN or iii,iv) HAp/DN gels four weeks post-implantation
C : HAp-coated DN gel (upper right) and its implant material samples (lower figure, HAp uncoated)
Patent
・JP5166282 Bone filler for cartilage tissue regeneration treatment
・JP2019-189718A Hydrogel and hydrogel manufacturing method
・JP2022-94413A Artificial cartilage implant and its manufacturing method
Researcher
Hokkaido University Faculty of Advanced Life Science Jian Ping Gong,Takayuki Kurokawa,Takayuki Nonoyama
Development Phase
This stage: The stage where in vivo implant POC of HAp-coated DN gel has been completed.
Next stage:
(1) Evaluation of mechanical strength, etc. by providing samples
(2) Establishment of manufacturing technology by providing DN Gel manufacturing equipment, molds
(3) Clinical development (evaluation of efficacy and safety through long-term animal studies, efficacy evaluation through clinical trials, procedure/device development, etc.)
We are looking for collaborative partners who are interested in development collaborations in (1), (2), and (3) above. We would be happy to start with a detailed explanation and discussion of the technology.
Project number: ON-04230