Advantage
1/10-1/3 the processing time of conventional methods
Fully closed flow process from separation, purification, and concentration to drug synthesis
Ga yield is over 99%
Recovery and recycling of metal Zn after removal is also possible
Background and Technology
PET(Positron Emission Tomography) is a high-resolution, non-invasive diagnostic imaging technology that uses radioisotopes as markers. So far, 18F-FDG using fluorine-18F has been widely used for the diagnosis of cancer, but there is a need to utilize other radionuclides because 18F-FDG is not optimal for some tumors and because of the short half-life of 18F(109.4 minutes).As such Radio isotope, 68Ga have been developed as radiopharmaceuticals. Specifically, 68Ga-DOTATATE for neuroendocrine tumors and 68Ga-PSMA for prostate cancer have been clinically applied to PET/CT, and demand for them is expanding on a global scale. As for 68Ga production equipment, Ge/Ga generators have also been approved as small and simple equipment, but the yield of this process is still low, and there are few production sites, so there is a high possibility that supply will be insufficient to meet the growing demand.
Based on the ion extraction devices that our group has been studying for many years, we have designed a device that simultaneously achieves "substitution by acid matrix" "selective complexation reaction" "in-line concentration" and have completed this process. This process has been showed to be sufficient for the recovery of trace amounts of fg(10-15)、pg(10-12) radioisotopes.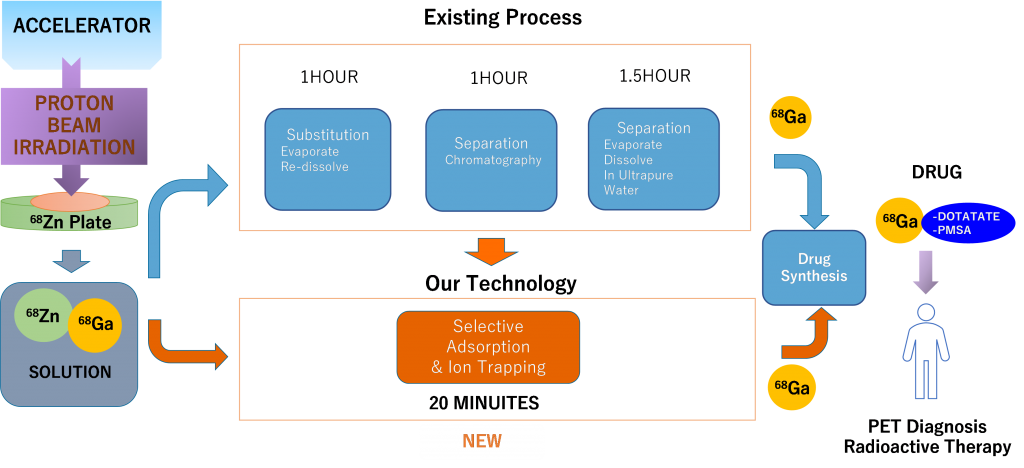 Data
A sample solution (1.9mL) with pH adjustment and EDTA addition was placed in a loop and two valves were switched to recover high concentration Ga >99% with Zn removed by fraction collection time.
Sample solution=50fg67Ga/L+0.1gZn/L (containing 65Zn as tracer)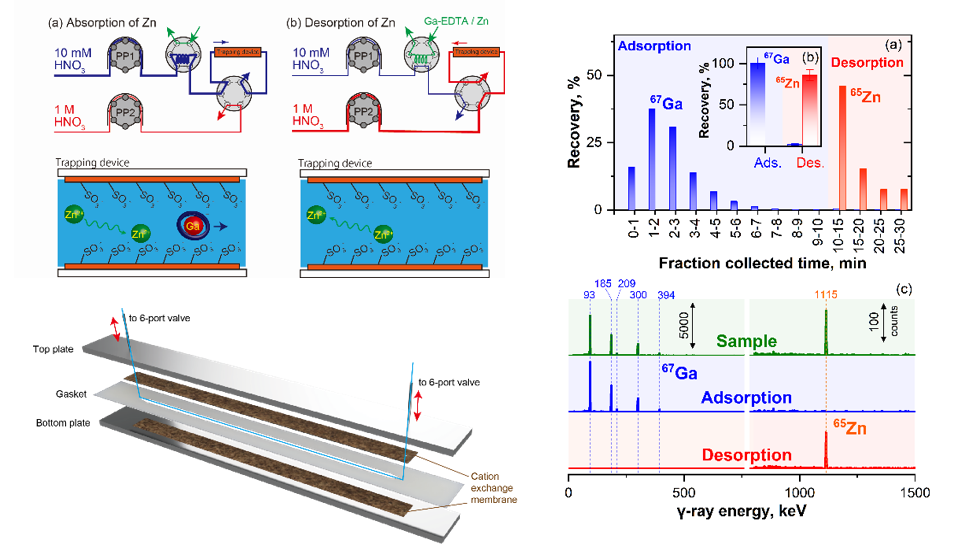 Patent
Pending
Inventors
Shinichi Ohira, Takashi Toda  (Kumamoto University)
Yumi Sugo  (National Institutes for Quantum Science and Technology)
Katsunobu Mori  (Kochi University)
Development Stage
-Current stage: The basic principle has been confirmed and the separation, purification and recovery performance of the device has been demonstrated with an experimentally available  radioisotope (67Ga/65Zn).
-Next stage:Demonstration of the reproducibility of  68Ga/68Zn in this system. Development and demonstration of a flow system for drug synthesis.
We are looking for co-development partners for the next stage of development of practical devices. We would be happy to start with a detailed explanation and discussion of this process.
Please feel free to ask us about the application and practical use of this technology for the separation, purification, removal, and recycling of other radioactive isotopes and  metals.
Product No. ON-04099