Advantages
Identified from 300 stage III gastric cancer patient's resected specimens.
Potentially effective for other tumors; lung, colorectal, breast, pancreatic cancer, etc.
Companion diagnostic can be used.
Background and Technology
Gastric cancer (GC) is the second leading cause of cancer-related deaths worldwide.  Although limited treatment options including antibodies targeting receptors of the growth factors and the immuno-checkpoint inhibitors are currently available for advanced gastric cancer, their response rates remain unsatisfactory.  Thus novel anti-cancer agents with completely different mechanisms are indispensable for improvement of the treatment outcomes of GC patients.
Transmembrane Receptor-B has been identified via comprehensive transcriptome analysis of 300 resected tissues from stage III GC patients.  Receptor-B was significantly expressed in specimens of patients with poor prognosis compared with five year survivors without recurrence.
Data
Intraperitoneal administration of monoclonal antibodies against Receptor-B significantly reduced tumor growth of human GC peritoneal  dissemination model mice (fig).
Patient's cancer tissues were stained by Immunohistochemistry.
Retrospective analysis by quantitative PCR data showed high predictive values to identify patients at risk of recurrences and poor prognosis.
Tissue microarray data demonstrated cancer-specific overexpression of receptor-B in breast cancer, lung cancer, pancreatic cancer and colon cancer.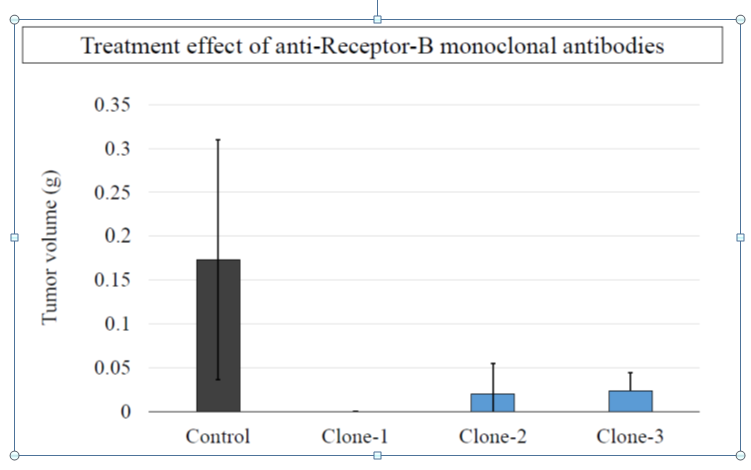 Patent
Pending (Unpublished)
Researcher
Dr. Mitsuro kanda    Department of Gastroenterological Surgery, Nagoya University Graduate School of Medicine, Japan.
Expectations
We are looking for a company to license and develop this technology. Detailed data can be disclosed under CDA.
Product No:TP-00782