Core Benefit
Adult Girdin gene knockout mice faithfully mimic all clinical symptoms of human patients suffering from mesial temporal lobe epilepsy in terms of grand-mal seizure, intra-ictal behaviors, pathological-, MRI-, and electroencephalogram- findings. Grand-mal seizures of this mouse model constantly last a lifetime.
Viability and longevity of this mouse model are not much different from those of wild-type littermates. This mouse model exhibits grand-mal seizures at 100% penetration rate without any chemical or electrical stimulation. Uniformity, reproducibility, and abundant grand-mal seizures are beneficial for the purpose of data collection of therapy experiments.
Background and Technology
Mesial temporal lobe epilepsy (MTLE) makes up the largest rate of causes of refractory epilepsy of adult. MTLE is originated from hippocampus of brain. Symptoms of MTLE include, 1) grand-mal seizures, the severest form of epilepsy characterized by tonic-clonic seizures with complete loss of consciousness, and 2) partial seizures, characterized by driving a car in a semiconscious manner without being aware of it, which sometimes causes traffic accidents. The lack of effective treatments is attributable to the lack of good animal models. Conventional animal models, such as autochthonous rodent models (Ihara rat, EL mouse) or kindling models (chemically- or electrically- induced model) had several practical defects (e.g. heterogeneous and inadequate seizure inductions), which hampered development of therapy using these models.
We generated Girdin knockout mice using homologous recombination. However, all mice died before weaning (at around 30 days old) due to malnutrition. In this invention, we developed breeding conditions including special food recipe for Girdin knockout mice to overcome malnutrition. By this invention, we obtained adult Girdin knockout mice, which developed MTLE with 100% success rate. These mice can be utilized as an MTLE mouse model for screening and developing drug candidates for MTLE therapy.
Data
Since 2012, video surveillance of this mouse model and its wild-type littermates, all knockout individuals (n=30) exhibited, in total, 5,837 times of grand-mal seizures, while wild-type never did once. Concomitant circumstances (e.g. most of grand-mal seizures occurs during sleep, not during meal) also resembled those of human MTLE patients. Note: Epilepsy during sleep (sleep epilepsy) is one of the clinical features of human MTLE patients.
All knockout individuals exhibited grand-mal seizures (Morrison's Score 6) almost everyday since around one-month-old through lifetime. Frequency of grand-mal seizures was typically 5-20 times per day per mouse. All knockout individuals more frequently exhibited lower levels of seizures (Morrison's Score 1-5. e.g. myoclonic jerks of the head and neck).
Auditory-, vibratory-, light-, or tactile- stimulations induced grand-mal seizures of knockout individuals. Even during interval stage of grand-mal seizures (intra-ictal phase), knockout individuals were hyper-sensitive to all kinds of external stimuli. These traits of mice coincided with impulsive behavioral tendency of human MTLE patients, called 'a syndrome of sensory-limbic hyperconnection'.
Pathological analyses of brain tissues of knockout individuals began to reveal 1) bilateral hippocampal sclerosis (HS) characterized by activated astrocytes, and 2) bilateral granule cell layer dispersion (GCD) at around postnatal Day 14, and both HS and GCD progressed with advancing age. Hippocampus eventually expanded and became a lump of scar tissue, inside of which, neither dentate gyrus nor cornu ammonis was clearly visible. Neither sclerosis nor cell dispersion was observed in extra-hippocampal regions of the brain of knockout individuals.
Electroencephalogram (EEG) of all knockout individuals (n=7) exhibited continuous abnormalities (waves with higher amplitudes and higher frequency) compared with wild-type littermates. Gigantic EEG burst waves were synchronized with grand-mal seizures.
In this way, this mouse model completely fulfills all the requirements for MTLE animal models proposed by an authoritative book of reference ('THE MESIAL TEMPORAL EPILEPSIES' edited by Felix Rosenow, Philippe Ryvlin, Hans O. Lüders. Publisher John Libbey Eurotext, 2011, United Kingdom). Proposed requirements are that an animal model ideally and reproducibly involves 1) endfolium or classic hippocampal sclerosis, 2) limited extrahippocampal brain damage, and 3) verified spontaneous hippocampal onset seizures.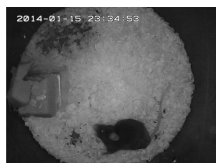 We can show the video clip of the grand-mal seizure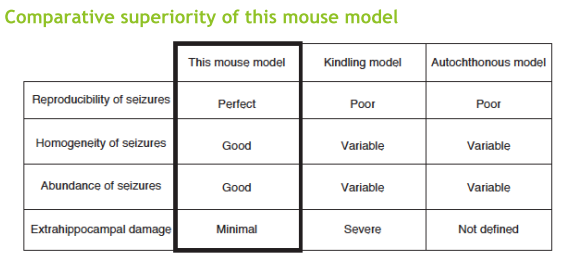 Patent
PCT/JP2015/078891
Product No: TP0445