Core Benefits
Low-cost, short time crystallization of proteins, peptides, middle sized molecules, etc.
Small crystal can be used for 3D structure determination.
Intra-structural proteins can be applied to the analysis of difficult-to-crystallize molecule.
Technology
Crystallization, the gold standard of structure determination of biomolecules is time-consuming and costly, and many proteins have not yet been crystallized despite all efforts. Prof. Ueno and his lab. have expertise in crystallization and developed unique technologies to analyze proteins / peptides / middle-sized molecules.
(1) Cell free simultaneous expression and crystallization
– Utilize their original jungle-gym structured porous protein complex (PPC, fig.) formed by modified polyhedrin, which is a viral protein that generates polyhedron in infected cells.
– Demonstrated crystallization of target protein by fusing with modified polyhedrin, or confining molecules by adding tag sequence in wheat-germ cell free expression system, as well as in-cell expression system.
(2) High-resolution structure determination of tiny crystals
– Developed automated system to detect and measure as small as 1 um crystal.
– Reduces scale of (1) into a few hundred L solution, 1/100,000 of conventional method.
(3) Experimental determination of metastable structure of proteins / peptides
– Structures of metastable proteins, which could be estimated only by computer simulation, can be experimentally determined by immobilizing in PPC.
– Pore size of PPC is precisely controllable, and potentially applicable for intrinsically disordered protein (IDP) research.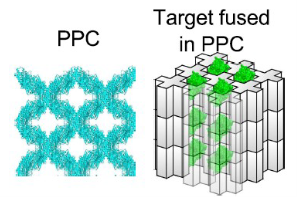 Intellectual properties/Publications
 WO2021/025126, JP2019-193594, other unpublished patents
 Know-how for crystallization and structure analysis
ACS Appl. Nano Mater. 2021, 4, 1672−1681; Adv. Mater. 2015, 27, 7951–7956
Researcher
Prof. Takafumi Ueno, Graduate School of Life Sci. and Tech., Tokyo Institute of Technology, Japan (http://www.ueno.bio.titech.ac.jp/en/index.html)
Expectations
We are seeking companies who are interested in the technology. Examples of collaboration are;
1) 3D structural analysis of specific protein/peptide / middle molecule mainly with pharma / biotech.
2) Contract research of 3D structural analysis with CROs who have in-silico technology.
3) Tech-transfer / license to pharma / biotech or CROs.
4) Joint application for AMED research grant to further expand potential and utilization of technology with a Japanese pharma / biotech or CRO.
Product No:KJ-03953