Advantages
➢ Unique curative mechanism by anti-cell death, anti-fibrosis and induced-regeneration which is clearly different from ones of conventional drugs like anti-HCV drugs
➢ First in class drug directly curing the lever lesion
➢ Stronger effect, easier handling and production than competing technologies like HGF
Background and Technology
There has been no effective therapeutic drug for incurable liver diseases such as fulminant hepatitis, NASH, other autoimmune hepatitis, primary biliary cirrhosis, and primary sclerosing cholangitis.
We discovered for the first time that HB-EGF (heparin-binding EGF-like growth factor) will be a blockbuster (as regeneration-inducing medicine) for intractable liver diseases with anti-cell death/organ protection and induction of regeneration effect.1 Specifically, we demonstrated therapeutic effect in fulminant hepatitis mice model with recombinant soluble HB-EGF protein (rsHBEGF) (Fig.1),2 and in cholestatic liver disease mice model which shows complicated liver pathology (necrosis, fibrosis) and chronic liver lesions with HB-EGF gene transfection by adenoviral vector.3 In addition, HBEGF is endogenous protein and has a low risk of side effect.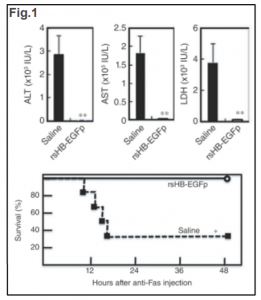 Thus, HB-EGF protein or therapeutic gene will be a unique curative drug for many kinds of liver diseases based on hepatocyte death inhibition and re-healing effect and there is no existing drug that can be substituted. In addition, the therapeutic effect is significantly stronger against the similar
technology HGF (hepatocyte growth factor)1,3. Furthermore,
there is an advantage that a large amount can be manufactured because of its simple structure.
Reference
1. Khai et al., J Hepatol. (2006) 44(6):1046-54
2. Khai et al., Hepatol Res. (2011) 41(6):594-6
3. Sakamoto et al., Int J Mol Med. (2016) 38(6):1673 -1682
Patent
US2009130062 (pending), EP1949907 (registered in DE FI FR GB IT SE), JP4839476 (registered)
Researcher
Ken-ichiro Kosai, M. D., Ph. D. Chairman and Professor, Department of Gene Therapy and
Regenerative Medicine, Kagoshima University Graduate School of Medical and Dental Science
Proposal
Worldwide exclusive license to use this technology for your First in Class drug development.
Product No.BK-03456