Advantages and Core Benefits
High solubility for aromatic compounds
Solubilizer formulation shows high oral absorbability and retentivity in blood
Reduction of development risk by preliminary in vivo test of low-solubility compounds
Background and Technology
Many of the potent low-solubility aromatic compounds are discarded in the drug discovery process due to their insufficient solubility. We developed a novel solubilizer for aromatic compounds. The combination of the solubilizer and aromatic compound forms lipid dispersion formulation which shows superior oral absorbability and retentivity in blood to conventional ones. There seems to be no toxicity and side effect. Our solubilizer is a new chemical entity and a clinical test is needed for clinical use.
Then, we would like to propose our solubilizer use for experimental formulation of low-solubility seed/hit compounds to evaluate the in vivo drug potency of such compounds before optimization and drug formulation development. The preliminary in vivo test of low-solubility compounds will reduce of development risk
<Non-clinical experimental formulation use>
It is difficult to evaluate in vivo drug potency of a low-solubility seed/hit compound and make a decision to enter its optimization development. Then, you can make an experimental formulation comprising the low-solubility compound and our solubilizer, which is improved oral absorbability and retentivity in blood, for a preliminary test of its drug potency in vivo. If the test result is good, you can really enter the optimization or formulation development with more confidence.
Data Examples
Retentivity of curcumin, quercetin, paclitaxel, silicon phtalocyanine in blood was significantly improved by formulation with our solubilizer.
Oral absorbability of fenofibrate was remarkably improved by formulation with our solubilizer (intestinal membrane and P-gp are not affected).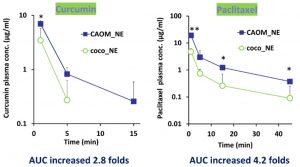 Patent
Patent pending
Researcher
Hideyoshi Harashima Ph. D.  Professor (Faculty of Pharmaceutical Sciences, Laboratory for Molecular Design of Pharmaceutics, Hokkaido University)
Expectations
We are looking for pharmaceutical and biotech companies who want to test or use this solubilizer. We can provide the solubilizer for your feasibility study under an MTA. We intend to involve a solubilizer provider company according to the demand.
Product No. BK-03377