Advantages
New Chemical Entity
Much higher chemical and metabolic stability than RvE2
Preventing and resolving inflammation
Easily synthesizable
Background and Technology
Specialized pro-resolving mediators (SPMs) are a large and growing class of cell signaling molecules formed in cells by the metabolism of polyunsaturated fatty acids (PUFA) and involved in orchestrating the resolution of inflammation.  The family of resolvins included in SMAs consists of omega-3 fatty acid-derived mediators, including E series resolvins generated from eicosapentaenoic acid (EPA).  Especially, resolvin E2 (RvE2) which is 5S,18-dihydroxy-eicosapentaenoic acid carries potent anti-inflammatory properties including leukocyte-directed actions that include regulating chemotaxis of human neutrophils and enhancing phagocytosis and anti-inflammatory cytokine production. RvE2, however, has too low chemical and metabolic stability to be developed as a lead compound of inflammatory drugs.
We achieved a total synthesis of RvE2 in short steps, and then succeeded to synthesize some stable equivalent analogs of RvE2.  Among them, benzo-RvE2 (BZ-RvE2) showed excellent chemical and metabolic stability as well as anti-inflammatory effect equal to or greater than RvE2.

Data
(Top Fig. below) BZ-RvE2 suppressed neutrophil chemotaxis in acute inflammation mice model. (i.p.)
(Bottom Fig. below) BZ-RvE2 exhibited high metabolic stability to human liver microsome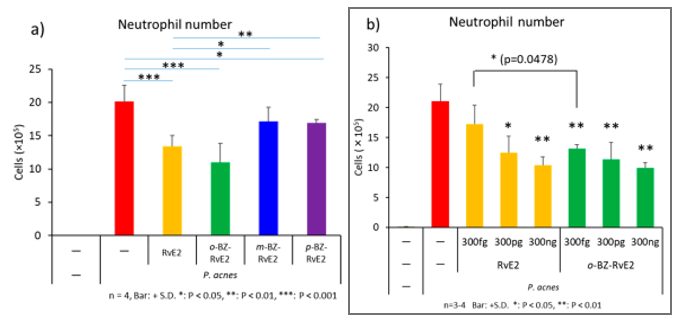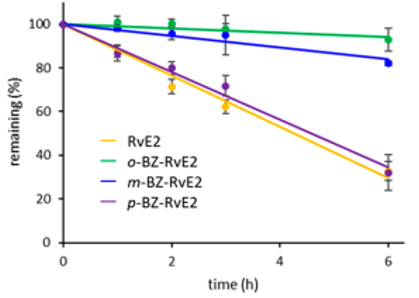 Patent and Publication
Patent applied.
Murakami, et al., ACS Med Chem Lett. 2020 Mar 25;11(4):479-484.
Researcher
Satoshi Shuto, Ph. D (Lab. of Organic Chemistry for Drug Development, Division of Molecular Pharmaceutical Science, Faculty of Pharmaceutical Science, Hokkaido University)
Expectations
We are looking for a company to develop anti-inflammatory drugs based on our lead compounds.  We can transfer our compounds to you for feasibility study.  We also have capability to conduct research collaboration in the field of organic chemistry for drug development.
Product No:CD-03373