Advantages
 It has a potential to treat not only drug-induced hearing loss but also that from other cause
Good pharmacokinetics and low toxicity in rodent study are confirmed
Background and Technology
Platinum chemotherapy and aminoglycoside antibiotics damage sensory hair cells in the inner ear, causing sensorineural hearing loss.  Otherwise, hearing disorder is a common problem caused by noise, aging, disease, heredity and idiopathy. Although a lot of people suffer from auditory disorder, there are few therapy and drug that satisfy the QOL of patient.
We synthesized several modulators for a certain ion channel that is reported a relationship to auditory function. It was observed that a synthesized ion channel modulator rescued mouse from hearing deficiency caused by administration of cisplatin
Data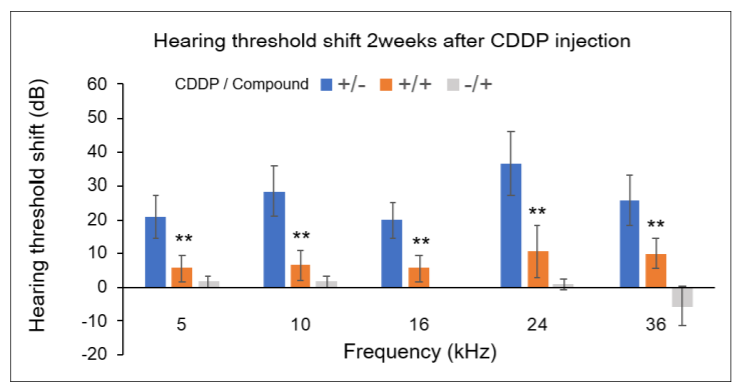 Deafness model was induced by administration of cisplatin (CDDP: 12mg/kg i.p.) in mice of which hearing threshold to sounds of each frequency was elevated (Blue bar).
The elevation of hearing threshold was suppressed by administration (p.o.) of the compound (10mg/kg/day: Blue vs Orange bar).
Patent
Pending in Japan.
Expectations
Under CDA, we can disclose more information such as the target ion channel,  its compound, and PK & toxicology profile.  In addition, we can also provide the synthesized compound for your feasibility study with
onerous evaluation agreement or MTA.
Product No:WL-03209