Advantages / Characteristics
Red probe (small molecule): Favorable for observation of deep tissue
High two-photon excitation luminous efficiency
Change in localized site: As the membrane potential of mitochondria drops, the probe moves into the nucleus
Synthetic cost: Within 5 steps
Technology Overview & Background
A low molecular-weight red fluorescent probe molecule whose intracellular localized site changes in response to mitochondrial membrane potential state.  If it is a normal mitochondrial membrane potential (negative charge), the probe of the present invention is localized on the mitochondrial membrane, whereas it is transferred from the mitochondria into the nucleus by a decrease in the membrane potential.
Fluorescent probes which can visualize the behavior of mitochondria have been widely used for elucidating the pathological mechanisms of some diseases, for example cancer, Alzheimer's disease, Parkinson's disease and so on, and also used for the development of these therapeutic agents. In general, fluorescent probes localized in the mitochondria are designed to interact electrostatically with the mitochondrial membrane, and numerous probes have been developed so far (e.g., Rhodamine 123, JC-1, JC-10, TMRM).
Data
Several low molecular weight compounds (red fluorescence in each case) were synthesized as a fluorescent probe having the above function. Among them, intracellular mitochondrial staining experiments were carried out using 13PY, 16PY, and 18PY, which are relationships of structural isomers.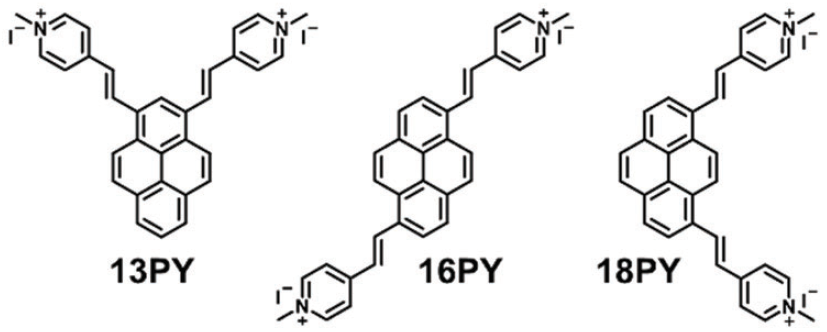 To the cultured HEK 293 cells, a DMSO solution of these probe compounds adjusted to a predetermined concentration was added to the cell culture medium. After incubation, the cells were washed and subjected to fluorescence microscopic observation. As a result, it was observed that any compound was localized in mitochondria.
The potential of the mitochondrial membrane was controlled to induce a reduction in membrane potential by using CCCP (carbonyl cyanide-m-chlorophenylhydrazone), which can increase the proton permeability of mitochondria and eliminate the membrane potential. As a result, it was observed that in the cells stained with 13PY or 18PY, localization of the probe was transferred from the mitochondria into the nucleus, but such nuclear translocation could not be confirmed in 16PY (see the figure on the next page).
Publication(s)
Seki, H., Nico, Y., et al. J. Mater. Chem. B, (2018):6, 7396–7401.
DOI: 10.1039/c8tb02415d
Patent(s)
PCT/JP2018/041417 (published in Japanese as WO2019/093400).
Researcher(s) & Academic Institution
Yosuke Niko, PhD (Assistant Professor, Kochi University, Japan), et al.
Further Details
CDA (with Kochi Univ.) >>>>> Available
MTA (with Kochi Univ.) >>>>> Available
Expectations
We are now looking for biotech companies to develop this technology further under the licensing of patent(s) described above.
Product No. CD-02662