Advantages
Low risk of side effect, auto antibody because of using intrinsic protein.
Modulates functions of only antigen-presenting cells.
Effect was demonstrated for systemic lupus erythematosus (SLE).
Technology
Recombinant HLA-related protein (HLA-x) for the treatment of autoimmune diseases, which can be manufactured by E-coli fermentation system.
Background
HLA family proteins are associated with immune system.  Topical administration of isoforms of HLA are proved to be effective for dermatological immune disease conditions. However, to date, there have been no successful reports on the treatment of systemic autoimmune diseases by HLAs.
The researcher has demonstrated the effectiveness of certain HLA (HLA-x) and determined its effective dosage, for the treatment of systemic disease such as systemic lupus erythematosus (SLE).   HLA-x, which does not affect cytotoxicity, is not so much expressed in normal conditions.
Data
Established HLA-x production system by E-coli expression.
Unmodified HLA-x (15µg/body) and PBS as control, were injected ip. twice/week for 12 weeks in SLE model mice.
Amount of anti-dsDNA antibodies after 72 days and urinary protein value (albumin/ creatinine) after 86 days were much lower in HLA-x treatment group (upper fig.).
H&E, PAM, PAS staining confirmed reduced infiltration of mononuclear cells and vasculitis in the kidney, as well as reduced proliferation of glomerular mesangial cells (lower Fig.).
HLA-x induced IL-6 and IL-10 in dendritic cells in vitro
Stabilized PEGylated HLA-x has been developed.
Proposed mechanism was confirmed by human cell analysis.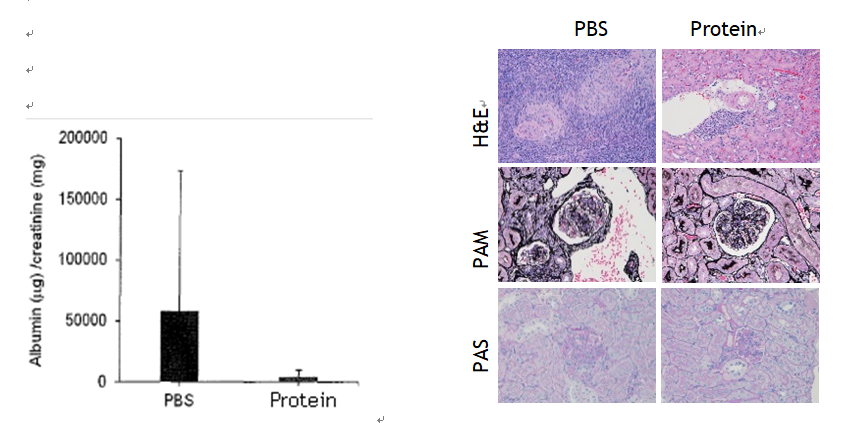 Patent/Publications
Pat. filed (No publications)
Researcher
Professor Katsumi Maenaka, Hokkaido University, Japan
Expectations
We are seeking a partner who can further stabilize and optimize the protein, and finally commercialize this technology.  Details can be disclosed under CDA.
Product No:CD-02818