Advantages
Claudin-2 is a new therapeutic target of IBD.
The antibody binds to extracellular domain of claudin-2 and improves barrier function of bowel.
Background and Technology
The epithelial tight junction controls the paracellular transport in the intestine and also prevents uptake of larger molecules. Claudin-2, one of the claudin-family regulating intercellular tight junction, forms a paracellular channel for small cations and water. It is expressed in leaky epithelia in small intestine for the paracellular transport of sodium, potassium, and fluid. In inflammatory bowel diseases, claudin-2 is upregulated in small and large intestine and leads destruction of intestinal barrier and diarrhea via a leak flux mechanism.
Here, we developed a new anti-claudin-2 mAb binding to extracellular domain of claudin-2. It suppressed claudin-2 function on paracellular transport and improved barrier function of bowel in IBD model.
Data
In vivo test with T-cell transferred intestine inflammation model mice revealed the anti-clanduin-2 mAb 1A2 suppressed some factors regarding to inflammation and showed improvement of intestine tissue.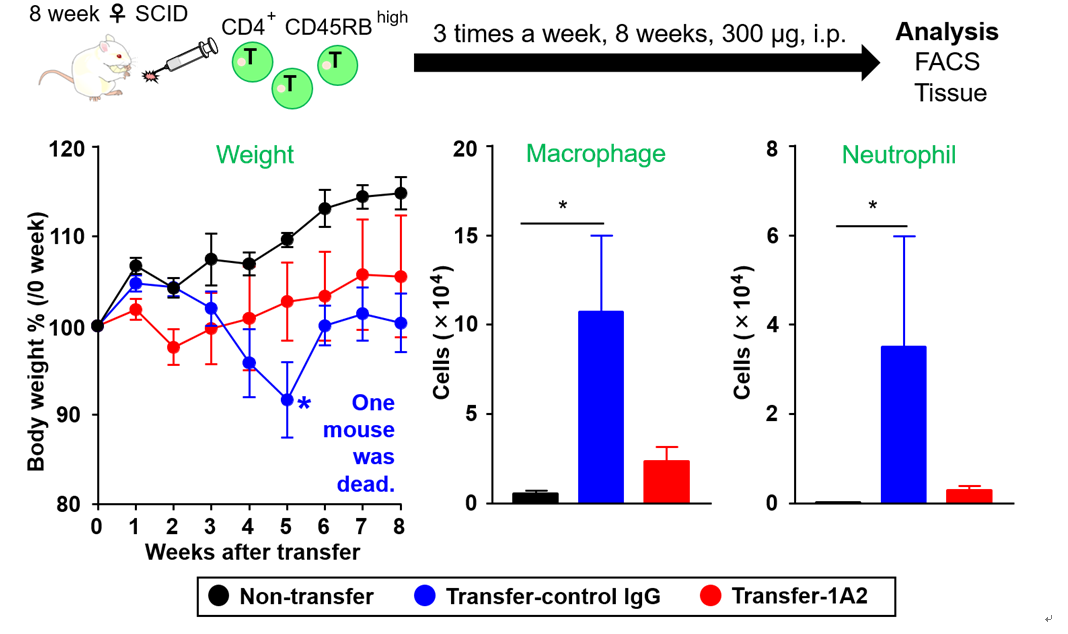 Patent
WO2018/123949  published.
Researcher
Prof. Masuo Kondoh (Osaka University, School of Pharmaceutical Science)
Expectations
We are looking for a drug discovery company to collaborate with our researchers and develop this technology further.
Product No:TP-00787