Advantage
There is a high correlation between expression level of this biomarker and therapeutic response rate in anti-PD1 antibody drug therapy for lung cancer patients.
This biomarker can discern non-responders from responders before immune checkpoint blockade therapy. It reduces significant side-effect cases and medical expenses in treatment of non-responders.
Background & Technology
Immune checkpoint PD-1/PD-L1 inhibitors, such as Nivolumab and Pembrolizumab, block receptor-ligand interactions between immune and tumor cells and inhibit immune-suppressive signals in a wide spectrum of malignancies. Immune checkpoint blockade has been approved in advanced melanoma, renal cell cancer, non-small cell lung cancer, relapsed refractory Hodgkin's lymphoma, and urothelial cancer. Adverse effects and existence of non-responders, however, can limits our use of these agents. To help discern responders from non-responders to the treatment, PD-L1 immunohistochemistry was developed. Despite PD-L1 assays, however, some of patients that are considered to be PD-L1-negative will still respond, while some of PD-L1 positive patients will not respond to the treatment. Therefore, additional predicting biomarkers are required for accurately predicting response to immune checkpoint blockade.
We identified a novel biomarker that is expressing on the CAF in tumor tissue from responder patients (right figure). In comparison to PD-L1, the accuracy of this prediction biomarker is better, especially in identification of non-responders.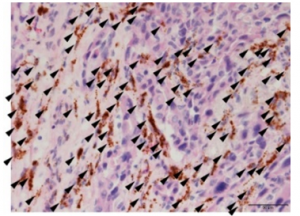 Data & Publication
There is a correlation between the marker expression level and the Disease Control Rate and Objective Response Rate (ORR) assessed by iRECIST, although the PD-L1 expression level (TPS) indicates no correlation with ORR on the same samples from 52 patients.
There is also a correlation between the marker expression level and the Overall survival rate of the patients with PD-1/PD-L1 blockade treatment.
Patents
PCT/JP2019/004521
Researchers
Dr. Atsushi Enomoto, Dr. Yuki Miyai (Nagoya University)
Product No:TP-00783